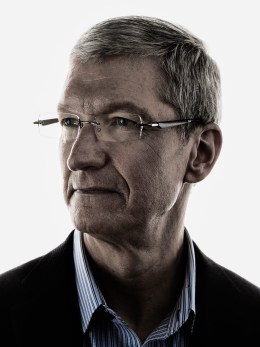 He is, of course, correct. In 2012, Apple released the iPhone 5, the newly redesigned MacBook Pro, two new iPods and both the third- and fourth-generation iPads, plus the iPad Mini. Apple completely redesigned its flagship media software, iTunes, and added more than 272,000 new apps to the iTunes store. "This year has been an intense year on products," he says. "Like no other."
(LIST: 30 Best iPad Apps)
All that is true and amazing and at the same time not 100% surprising. Cook has had the effect on Apple that you'd expect from an operations genius: he's made all the existing product-improving machinery run even faster and smoother than it already did. The real story of Apple in 2012 may be what Cook has done in China.
Jobs never visited the country where most of Apple's products are built, at least not in any official capacity, but as a manufacturing guy Cook is an old China hand, and on his watch Apple has broken out as a consumer brand there. The iPhone got Apple inside the Great Wall, and it has proved to be a Trojan horse: Apple products are now a status symbol among the newly affluent. When the iPhone 4S launched there in January, there were near riots outside Apple stores; the iPhone 5 sold 2 million units in China in three days. Overall, Apple's revenue from China grew by $10 billion in 2012. "It's a huge market with huge potential," Cook says, "with an enormous emerging middle class that really wants Apple products. I think it will be our largest market, over time."
Apple also met with some serious and very public reversals in 2012. The labor practices of its Chinese manufacturing partners' factories continued to be a source of embarrassment. September saw the distinctly un-Apple-like launch of Apple Maps, which was buggy and reportedly misinformed as to the location of landmarks like Washington's Dulles International Airport. These were, if nothing else, opportunities for Cook to show off his chops as a swift, steely decisionmaker. Cook arranged for independent audits of Apple's Chinese factories by the Fair Labor Association, and he toured China and met with Vice Premier Li Keqiang. After the Maps debacle, Cook stepped up and made a public apology, in which he took the extraordinary step of urging consumers to use competitors' products until Apple got its house in order. He also reshuffled his cabinet, ousting the heads of Apple's retail and mobile-software divisions.
(LIST: 50 Best iPhone Apps of 2012)
Nevertheless, the market's faith in Apple has seriously wavered since September, when its stock briefly, ecstatically crested above 700. Apple missed earnings estimates in the third and fourth quarters, and while it remains the world's most valuable company, its stock has taken a sustained three-month hammering that has left it down 25% from that high point.
There is a babel of opinions among analysts about what this does or doesn't mean. Some blame Maps. Some think the increasingly ferocious competition in the smart-phone and tablet markets is making investors nervous. Some think Apple has lost its innovative spark. Others say Apple's numbers are still so huge, who cares if they're slightly less than the even more huge but essentially arbitrary numbers that Wall Street analysts expected? Apple's price-earnings ratio hovers around a robust 12. There are commentators who still consider Apple undervalued. But there's no question that Cook also has plenty of doubters left to convince.
None of this appears to ruffle Cook particularly. "I've worked at Apple for 15 years," he says, "so Apple's not foreign to me. I don't mean to sound like it's all a predictable ride. It's unpredictable. But it's always been unpredictable." He hasn't altered his personal style any. He remains, like all great Apple products, a paradoxical combination of open and closed, polished and user-friendly but also sealed up tight against anybody who's curious about what's inside. You know there are reams of code churning away down there, just below the surface, but you'll never know exactly what's going on.
His critics say Cook lacks a true technologist's vision, but it would be more accurate to say that he has yet to show his hand. Apple finished 2012 with a triumphant record of innovation, but it was innovation with a small i, as in incremental. That's good enough for an ordinary company, but it's not what made Apple worth more than Exxon Mobil. The essence of Apple is the quantum leap, the unexpected sideways juke into a heretofore unnoticed and underexploited market — personal computers, digital music players, smart phones, tablet computers. Maybe the next stop is televisions; that's certainly where the rumor mill is going. But the test for Cook will be to seek out a new category that's vulnerable to disruption and disrupt the hell out of it.
I ask Cook if he would do that — if that would continue to be Apple's modus operandi going forward. He smiles, seductively as always, and says, "Yes. Yes. Most definitely." When that happens, that's when Cook will show his hand, and we'll get a look below the surface. He'll do the unexpected thing and double down on something new. And when he does, that's when the rest of the world will see what Jobs saw in him.