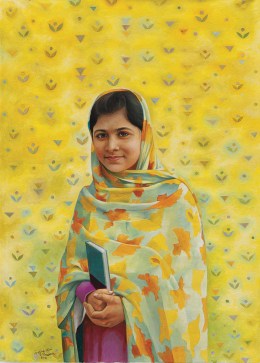 Ayesha Mir didn't go to school on Tuesday, Nov. 27, the day after a security guard found a shrapnel-packed bomb under her family's car. The 17-year-old Pakistani girl assumed, as did most people who learned about the bomb, that it was intended for her father, the television news presenter Hamid Mir, who often takes on the Taliban in his nightly news broadcasts. Traumatized by the near miss, Ayesha spent most of the day curled up in a corner of her couch, unsure whom to be angrier with: the would-be assassins or her father for putting himself in danger. She desperately wanted someone to help her make sense of things.
At around 10:30 p.m., she got her wish. Ayesha's father had just come home from work, and he handed her his BlackBerry. "She wants to speak to you," he said. The voice on the phone was weak and cracked, but it still carried the confidence that Ayesha and millions of other Pakistanis had come to know through several high-profile speeches and TV appearances.
(PHOTOS: The Malala Effect: Dreaming of a University Degree)
"This is Malala," said the girl on the other end of the line. Malala Yousafzai, 15, was calling from the hospital in Birmingham, England, where under heavy guard she has been undergoing treatment since Oct. 16. "I understand that what happened was tragic, but you need to stay strong," Malala told Ayesha. "You cannot give up."
It was one of the few times Malala had called anyone in Pakistan since she was flown to England for specialized medical treatment after a Taliban assassin climbed onto her school bus, called out for her by name and shot her in the head on Oct. 9. Her brain is protected by a titanium plate that replaced a section of her skull removed to allow for swelling. But she spoke rapidly to the older girl in Urdu, encouraging her to stand up for her father even if doing so brought risks. As an outspoken champion of girls' right to an education, Malala knew all about risk — and fear and consequences — when it comes to taking on the Taliban. "The way she spoke was so inspirational," Ayesha says. "She made me realize that my father was fighting our enemies and that it was something I should be proud of, not afraid." The next day Ayesha returned to school. And with that call, Malala began to return to what she seems born to do — passing her courage on to others.
In trying, and failing, to kill Malala, the Taliban appear to have made a crucial mistake. They wanted to silence her. Instead, they amplified her voice. Since October her message has been heard around the world, from cramped classrooms where girls scratch out lessons in the dirt to the halls of the U.N. and national governments and NGOs, where legions of activists argue ever more vehemently that the key to raising living standards throughout the developing world is the empowerment of women and girls. Malala was already a spokesperson; the Taliban made her a symbol, and a powerful one, since in the age of social media and crowdsourced activism, a parable as tragic and triumphant as hers can raise an army of disciples.
(MORE: The Other Girls on the Bus: How Malala's Classmates Are Carrying On)
She has become perhaps the world's most admired children's-rights advocate, all the more powerful for being a child herself. Her primary cause — securing Pakistani girls' access to education — has served to highlight broader concerns: the health and safety of the developing world's children, women's rights and the fight against extremism. Former British Prime Minister Gordon Brown, who is now the U.N.'s special envoy for global education, declared Nov. 10 Malala Day in honor of her and the more than 50 million girls around the world who are not at school. Nearly half a million people have signed petitions on Change.org to nominate her for the Nobel Peace Prize. That is not how the Taliban intended things to turn out.
If Malala decides to continue her crusade, hers will be a platform backed with financial means and wired with well-connected allies. "She'd be great as both a fundraiser and a public speaker," says former First Lady Laura Bush, who's spent years campaigning for women's rights in Taliban-controlled areas. Several funds and initiatives have been founded, including at least one that Malala and her father will directly influence once she has recovered. However, a return to Pakistan, where Malala would likely be most effective, would be fraught with danger. The Taliban have on several occasions sworn to target her again.
Long before she was an activist, Malala Yousafzai was a model student. By the time she was 21⁄2, she was sitting in class with 10-year-olds, according to a close family friend and teacher at the school founded by Malala's father. The little girl with the huge hazel eyes didn't say much, but "she could follow, and she never got bored," says the teacher, who asked to remain anonymous for fear that she too might become a Taliban target. Malala loved the school, a rundown concrete-block building with a large rooftop terrace open to views of the snowcapped mountains that surround the Swat Valley. As she grew older, she was always first in her class. "She was an ordinary girl with extraordinary abilities," says the teacher, "but she never had a feeling of being special."
(Interactive Timeline: The Making of a Heroine)