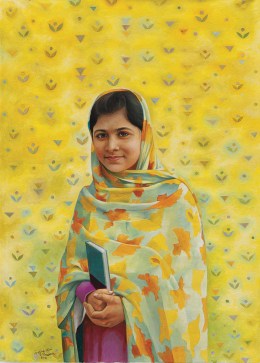 The bullet that hit Malala, according to doctors who are treating her, pierced the skin just behind her left eye, traveled along the exterior of her skull, nicked her jawbone, went through her neck and lodged in the muscle just above her left shoulder blade. Surgeons in Pakistan removed a section of her skull during an operation on Oct. 10 and embedded it in the flesh of her abdomen; as long as it's inside her body, it will likely remain viable until her doctors decide it is time to take off the titanium plate and patch her skull back together. She will probably face several more months of rehabilitation. Doctors treating her at Queen Elizabeth Hospital in Birmingham do not expect her to suffer permanent brain damage.
Besides her call to Ayesha Mir, she is showing other small but telling signs of wanting to resume her role as an activist. The first pictures taken of her after the shooting showed a powerless victim of violence: on her back, swollen, possibly dying. That didn't happen again. For subsequent photos released after her surgery, friends say, she insisted that she be photographed with a book in hand and her headscarf carefully draped to hide any signs of damage — both as a nod to tradition and so that supporters would know that her priorities had not changed.
Even as she quietly recovers, her story has lit a fire. Queen Elizabeth Hospital has been flooded with gifts and cards from all over the world and donations now totaling $13,700 for Malala and her family. Meanwhile, a group of graduate students in the U.S. has teamed up with a Yousafzai family friend to raise almost $50,000. In the days immediately following the shooting, several charities and NGOs received boosts in donations directed toward girls' education in Pakistan. And on Dec. 10, Pakistani President Asif Ali Zardari announced the establishment of a $10 million education fund in Malala's name.
Malala also now has numerous powerful supporters, including a group of well-connected people like Megan Smith, a vice president at Google, and Mark Kelly, an astronaut and the husband of former Congresswoman and shooting survivor Gabby Giffords, who have helped established the Malala Fund, which will offer grants to organizations and individuals working in education. The plan is for Malala, when she's better, to sit on the board along with her father and make decisions about who should receive the grants.
And her father has an important new job: on Dec. 9, Gordon Brown announced that Ziauddin would be his special adviser on global education.
But as Malala knows perhaps better than anyone else, the forces aligned against her are intimidating and entrenched. Although she has said through her father that she is determined to return to Swat, it's quite possible that she will be forced to remain in England, where she has security and an unfettered opportunity to study. (The Pakistani government has promised to cover the cost of her education should she stay in the U.K.) That will only allow her critics — and there are many, including people who believe the shooting was staged or even invented — to insist that she and her family have forsaken the country they claim to care so much about.
In the face of such pressure, and after all she has been through, it would be understandable if Malala essentially retired at age 15. She may decide that she's already done enough. Perhaps, in spite of the threats that are still directed at her, she will go back to Mingora to finish her education and raise a family, as is traditional for most girls and women in the region. There, her family's home, a small gated compound shaded by a massive orange tree heavy with unplucked fruit, is watched over by family friends. Her tiny ninth-grade classroom on the second floor of the school is crammed with 31 students — and has one empty desk. Her best friend, Moniba, used a white correction pen to inscribe Malala in girlish cursive onto the desk's battered wooden armrest. "This is Malala's desk," says Moniba, who sits at the adjacent seat. "It will stay empty until she comes back."
If she doesn't, all it takes is a quick scan of the school's crowded classrooms to understand that there are 400 Malalas prepared to take her place. Not all of them will be as bold or articulate as Malala, perhaps. But each one has returned to Khushal with the full knowledge that Malala's attackers are still at large. These girls have overcome fear to go to school. At the very least, they will fight for the right of their daughters, and their daughters' daughters, to do the same. Malala's classmates were already brave. She has made them, and girls all over the world, braver still. — with reporting by megan gibson and sonia van gilder cooke/london and mehboob ali/mingoran