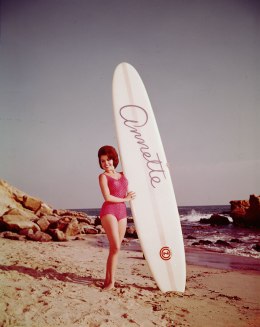 Mickey Mouse Club debuted in 1955, with her as one of 24 perky club kids, the 12-year-old Annette Funicello was on her way to becoming, as she once called herself, the "queen of teen." But though her adolescence was cheerful, charming and squeaky clean, she couldn't help but become a key figure in the history of male sexual longing. To a generation of pubescent boys, long before the show was canceled in 1959, her mouse ears had started to seem like semiotic outposts of her emerging breasts. Yet she declined to play the temptress. In the early 1960s, after she graduated to movies, she was to self-restraint what Marilyn Monroe was to seduction. When she moved on to the mildly suggestive antics of the Beach Party pictures, she retained her sly poise, making puppy love seem plausible, even in a world where most of the puppies were dogs at heart.
Though Funicello largely withdrew from show business after her first marriage in 1965, America kept a soft spot for her, especially after she made public her struggle with multiple sclerosis in 1992. She was 70 when the disease took her life on April 8.
This text originally appeared in the April 22 issue of TIME magazine.
Next James Gandolfini