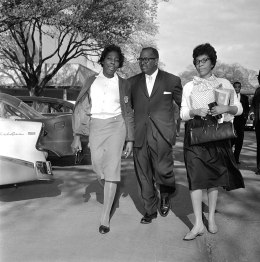 In 1953, the Rev. T.J. Jemison, a Baptist pastor in Baton Rouge, La., persuaded the city council to abolish a rule reserving the first 10 rows of buses for white riders, forcing blacks to the rear even if there were empty seats in the front and none in back. When bus drivers went on strike to protest the change, Jemison led what historians believe was the civil rights movement's first large-scale bus boycott, organizing carpools to provide alternative transport for blacks. That eight-day protest led the city to adopt a system by which black riders could sit anywhere but in the first two rows. "We weren't necessarily interested at that time in ending segregation," Jemison said in 1993. "We were after seats." In 1955, Jemison advised Martin Luther King Jr. on how to organize the pivotal Montgomery, Ala., bus boycott sparked by Rosa Parks.
Jemison, who died Nov. 15 at 95, went on to larger things. In 1957 he became a founder of the Southern Christian Leadership Conference, along with Dr. King, the Rev. Ralph Abernathy and the Rev. Fred Shuttlesworth. From 1982 to 1994 he also led the 7 million-member National Baptist Convention USA.
This text originally appeared in the Dec. 9 issue of TIME magazine.
Next C. Everett Koop