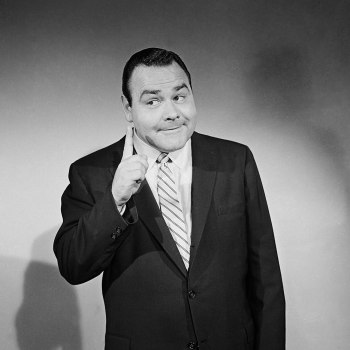 When I was first introduced to Jonathan Winters, as a kid watching The Hollywood Squares and Mork & Mindy, he was already a giant of American comedy. But when he appeared on the fourth season of Mork, I just knew him as a funny old man pretending to be a kid. The premise, introduced in the sitcom's final season, was that space alien Mork (Robin Williams) laid an egg, out of which hatched a "baby," Mearth, played by Winters. Orkans, we were told, aged backwards. I loved it–here was this old guy transforming himself into a bizarrely hilarious character, just like Williams! I really was seeing things in reverse, of course. Winters—who died April 11 at age 87 — was actually comedic father to Williams, an inspiration for his comedy of improvised multiple personalities, and his creative DNA was in many of the comics who followed him for years.
Winters was a big, looming oval of a guy, yet he could transform himself at will. More than just a funny comedian, he was a funny, funny actor. He helped establish the idea, now common to comedy fans, that being a humorist was not just about telling jokes but inhabiting characters, such as his sharply sweet old lady Maude Frickert.
It was only later, after Mork went off the air and I got older, that I caught up with some of his past work, like his movie roles in It's a Mad, Mad, Mad, Mad World and The Russians Are Coming, The Russians Are Coming. But even a young Mork & Mindy fan could see there was a magic to someone who could become a hunched, wide-eyed toddler in the hulking body of a man. Rubber-faced and endlessly expressive, Winters may not have been an actual alien, but he was a certified shape-shifter, and the egg from which a brood of comedians were born.
Next Paul Walker