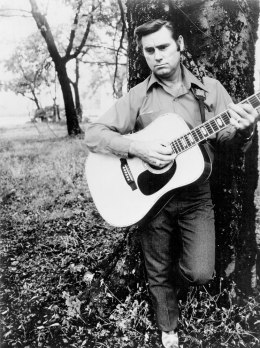 I first met George Jones in 1961 at a place called the Blackboard in Bakersfield, Calif. I was a big fan for many years before that. Back in those days, George had a pretty bad reputation. A lot of times he wouldn't show up, and when he did, a lot of times he was inebriated. He was that way that night. They had him in a little office in the nightclub, getting him some coffee, and I was onstage singing Marty Robbins' song "Devil Woman." George jumped up out of the room, kicked the door open and said, "Who in the hell is that?" From that day on, he and I had this mutual respect for each other.
When George died on April 26 at 81, we lost the greatest country singer who ever lived. Every time he stepped in front of a mike, he knocked me out. "She Thinks I Still Care" is my favorite. Then there's "White Lightning," and the list goes on forever. His delivery on "He Stopped Loving Her Today" is comparable to a fine opera. He's conveying something there about as well as it can be conveyed. I think he's with the Lord, probably having a great time, him and old Hank Williams and all the rest (wait a minute now, Hank may not be there). George was real, that's all I'll say. He was the most down-to-earth old country boy, didn't want anything special. He was just George Jones, and we loved him.
Haggard is a Country Music Hall of Fame singer and songwriter
This text originally appeared in the May 13 issue of TIME magazine.
Next Anthony Lewis