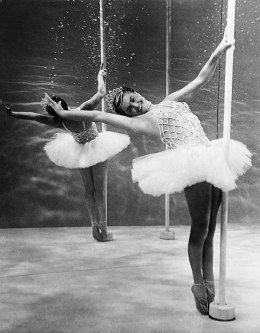 She cheerfully admitted she couldn't act, dance or sing. So why was Esther Williams, who died on June 6 at 91 in Los Angeles, a major movie star? Because she could swim–as a teen she set a record for the 100-m freestyle–and looked great whether lolloping in a pool or emerging from it in a one-piece bathing suit. Sleek as a seal, with gorgeously toned arms and a lustrous smile, Williams embodied the midcentury California dream for a country weary of war. She was Doris Day, underwater.
Born in Inglewood, Calif., Williams had never acted professionally before she was signed by MGM after a 1940 stint in Billy Rose's Aquacade. Soon she was starring in Bathing Beauty, Neptune's Daughter, Million Dollar Mermaid and other Technicolor swimming musicals–a genre never duplicated, or even imitated, until it blossomed into the Olympic sport of synchronized swimming in 1984. (She was on hand as a TV commentator.) After MGM emptied its pool in the mid-1950s, she retired into the possessive arms of her third husband, actor Fernando Lamas. After his 1982 death, Williams emerged, still fit and poised, as a living tribute to her own sunny, silly, borderline-sublime film legacy.
This text originally appeared in the June 24 issue of TIME magazine.
Next Helen Thomas