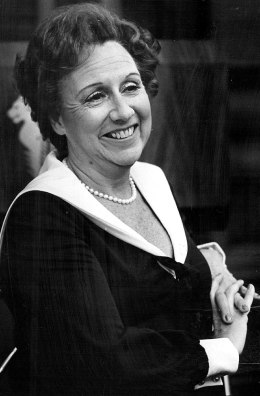 Character actress Jean Stapleton, who died May 31 at age 90, worked for half a century in theater, television, and movies, but by far her most memorable role was as Edith Bunker, who helped introduce change to the American living room by inviting America into her own on All in the Family from 1971 to 1979.
A Queens housewife, married to bigoted, belligerent loading-dock worker Archie (Carroll O'Connor), Edith was the sweetener in the acidic cocktail of social change that Norman Lear's sitcom served up every week. Richly well-spoken in real life, Stapleton animated Edith with a musical screech that established her as a one-of-a-kind character from the opening strains of the theme song, "Those Were the Days." That voice established Edith's working-class roots and gave pathos to her attempts to smooth over conflicts.
Stapleton's performance showed the strength it took, at a time when families were being torn apart, for Edith both to stand up for herself and keep the peace. What at first may have seemed like submissiveness in Edith was actually something much tougher: unconditional love. At a time when Americans needed it, Jean Stapleton made Edith a mother to us all, a reminder that in the midst of every living room war were decent people trying to do right.
Next Margaret Thatcher