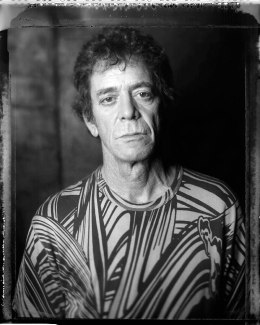 I first met Lou Reed at the Kings Cross Cinema (now La Scala) in London in July 1972. David Bowie took me backstage to greet him. Like me, David was an absolute admirer. Until that point, Lou had had zero commercial success, either with his now mythic band the Velvet Underground or as a solo artist. He was a creature of the netherworld.
It was the night of Lou's first-ever concert outside the U.S. He was sitting in a shadowy corner, quite alone. We exchanged a few pleasantries, and he went onstage a couple of minutes after midnight. He looked beautiful. I wanted to totally absorb his visual being through my lens. To suck on his aura. To immerse myself in his art. And I loved it.
Thus began our friendship and my fascination with his image, which we endlessly explored, weathering the slings and arrows and the outrageous antics of that crazed decade, the '70s, and beyond. He was a true gladiator, a fearless warrior and also a man of extreme kindness and compassion. If he was your friend in the fullest sense, he was your friend forever. He had a singing soul. And I miss him so much already.
Rock is a rock 'n' roll photographer who recently collaborated with Reed on the book Transformer, an anthology of iconic images from Reed's life and career
This text originally appeared in the Nov. 11 issue of TIME magazine.
Next Jean Stapleton