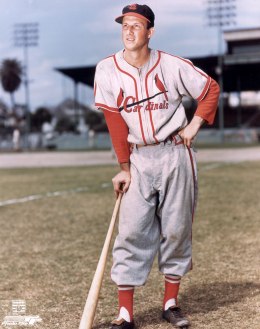 Stan Musial, who died Jan. 19 at the age of 92, was one of the greatest ballplayers in major league history. But his singular genius as an athlete derived not from an incandescent passion or from a talent for highlight-reel-worthy drama–although to be sure, he had his share of late-inning heroics and jaw-dropping performances. Instead, Musial's magnificence, and a key reason he was so beloved for so long, was rooted in his uncanny, unwavering, crazily consistent excellence across decades.
Musial played every game of his 22-year career with the St. Louis Cardinals. In his first, on Sept. 17, 1941, the 20-year-old Musial got two base hits in a 3-2 Cards win. In his last, on Sept. 29, 1963, the 42-year-old Musial got two base hits in a 3-2 Cards win. Of his 3,630 career hits, exactly half came at home, half on the road. In 1948, when he won his third MVP award, Musial led the league in hits (230), doubles (46), triples (18), RBIs (131), batting average (.376) and several other key categories, missing the Triple Crown by one home run. It's worth remembering that so many of the pictures we have of Musial show him smiling or laughing. When asked once why he always seemed happy, he is said to have replied, with a fine balance of diffidence and self-assurance, "If you had a .331 lifetime batting average, you'd be happy all the time too."
This text originally appeared in the Feb. 4 issue of TIME magazine.
Next Nelson Mandela