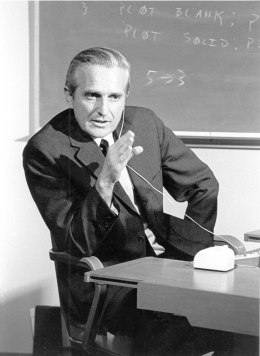 When Doug Engelbart died on July 2 at 88, virtually every headline identified him as the inventor of the computer mouse. But the visionary computer scientist's work in the 1950s and '60s was so prescient and influential in so many ways that remembering him solely for his ubiquitous pointing device is a little like praising the Wright brothers for their pioneering role in the history of propellers.
In an era when interacting with computers involved feeding punch cards into a mainframe and most of the people doing the interacting were scientists, Engelbart saw computers as a way for ordinary human beings to augment their intellect. Then he set about building the necessary tools to make that not just possible but easy.
Beginning in 1959 at the Stanford Research Institute, he spearheaded groundbreaking work on graphical user interfaces, hypertext, videoconferencing, networking and other fundamentals of personal computing that were later commercialized in Silicon Valley and elsewhere. Other people got rich off Engelbart's ideas, but his monuments are all around us–on our desktops, in our hands and everywhere else that we use electronic devices as extensions of our brains.
This text originally appeared in the July 22 issue of TIME magazine.
Next Roger Ebert