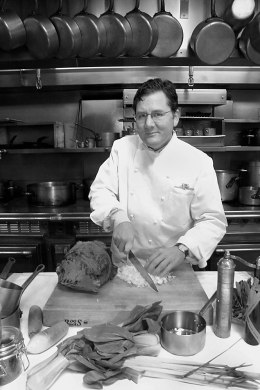 Chicago was always the many things Carl Sandburg attributed to it in his proud poem about the city's rough-hewn proletariat. Then, in 1987, came Charlie Trotter and the restaurant he audaciously named for himself, and the brawling slugger of a metropolis became the site of epicurean pilgrimages from around the world. Trotter inspired a new generation of innovative American chefs through both love and fear–love for the exquisite craft that went into his cuisine and fear of his pugnacious drive and biting temper. He knew it took more than food to create the universe of a unique restaurant.
One anecdote–among many–had Trotter ordering his staff to scour the sidewalks of cigarette butts that could detract from the experience of customers approaching his Lincoln Park institution. By the time of his sudden death at age 54 on Nov. 5, his restaurant had been surpassed by new ones headed by chefs he had mentored, and it had been shuttered for a year. But veterans of his kitchen include two of the city's reigning talents: Grant Achatz, who feared him, and Graham Elliot Bowles, who loved him. On their shoulders rests the continuing metamorphosis of his city, and of American cooking.
This text originally appeared in the Nov. 18 issue of TIME magazine.